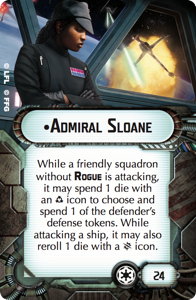 Card Text
Edit
"While a friendly squadron without Rogue is attacking, it may spend 1 die with an

icon to choose and spend 1 of the defender's defense tokens. While attacking a ship, it may also reroll 1 die with a

icon."
Alternate Card Text
Edit
In the overview for the Imperial Light Carrier Expansion Pack the card is seen with the following text:
"While a friendly squadron with Swarm is attacking, it may spend 1 die with an

result to choose and spend 1 of the defender's defense tokens. While attacking a ship , it may also reroll 1 die."
Its fleet point cost is 26.
Attributes
Edit
Available Through
Edit
The effect of this Upgrade Card triggers while attacking with a squadron in Attack Step 3: "Resolve Attack Effects"
Appearance
Edit
Admiral Rae Sloane served the Galactic Empire as a naval officer. She was instrumental in its survival in the aftermath of the Battle of Endor. The character was created for John Jackson Miller's 2014 novel A New Dawn. She later plays a role in the The Aftermath Trilogy.
More...
Ad blocker interference detected!
Wikia is a free-to-use site that makes money from advertising. We have a modified experience for viewers using ad blockers

Wikia is not accessible if you've made further modifications. Remove the custom ad blocker rule(s) and the page will load as expected.