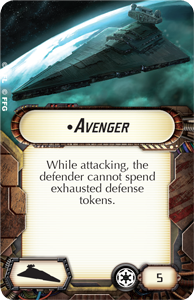 Card Text
Edit
"While attacking, the defender cannot spend exhausted defense tokens."
Attributes
Edit
Available Through
Edit
This Upgrade Card has to be exhausted and triggers during Attack Step 4: "Spend Defense Tokens"
Appearance
Edit
The Avenger was an Imperial II-class Star Destroyer. It was commanded by Captain Needa. The Avenger participated in the Imperial victory at Hoth. After the battle it took part in the pursuit of the Millennium Falcon in the Hoth asteroid belt.
More...
Ad blocker interference detected!
Wikia is a free-to-use site that makes money from advertising. We have a modified experience for viewers using ad blockers

Wikia is not accessible if you've made further modifications. Remove the custom ad blocker rule(s) and the page will load as expected.