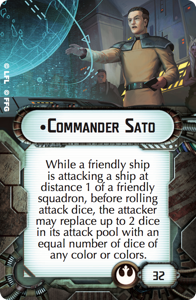 Card Text
Edit
"While a friendly ship is attacking a ship at distance 1 of a friendly squadron, before rolling attack dice, the attacker may replace up to 2 dice in its attack pool with an equal number of dice of any color or colors."
Attributes
Edit
Available Through
Edit
The effect of this Upgrade Card triggers during Attack Step 2: "Roll Attack Dice", before rolling attack dice.
Appearance
Edit
Commander Sato commanded the Phoenix rebel cell, including a group of A-wing starfighters known as Phoenix Squadron. Sato used the Phoenix Home, a Modified Pelta-class Command Ship, until it was destroyed by Darth Vader, after which he transferred his command to the CR90 corvette Liberator.
More...
Ad blocker interference detected!
Wikia is a free-to-use site that makes money from advertising. We have a modified experience for viewers using ad blockers

Wikia is not accessible if you've made further modifications. Remove the custom ad blocker rule(s) and the page will load as expected.