A critical effect, denoted by the "

:" header, can resolve if there is at least one

icon in the attack pool.
The attacker can resolve only one critical effect per attack.
The attacker does not spend a die icon to resolve a critical effect unless the effect says otherwise.
Critical effects resolve at the beginning of the Resolve Damage step of an attack.
The standard critical effect is ": If the defender is dealt at least one damage card by this attack, deal the first damage card faceup."
Squadrons cannot suffer critical effects unless otherwise specified. Only Squadrons with the Bomber Keyword can resolve critical effects.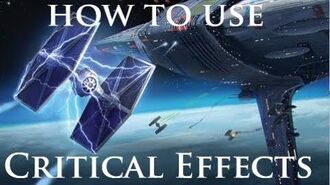 Upgrade Cards granting critical effects:
Edit
Squadron Cards granting critical effects:
Edit