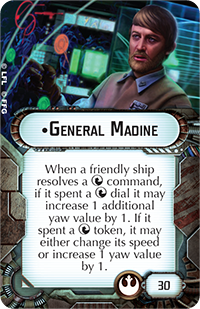 Card Text
Edit
"When a friendly ship resolves a

command, if it spent a

dial it may increase 1 additional yaw value by 1. If it spent a

token, it may either change its speed or increase 1 yaw value by 1."
Rules Clarification
Edit
When a friendly ship resolves the

command and spends a

dial, it can use this effect to increase a yaw value by an additional 1.
When a friendly ship equipped with Nav Team resolves the

command and spends a

token, Nav Team's effect is not cumulative with General Madine's effect.
Attributes
Edit
Available Through
Edit
The effect of this Upgrade Card triggers during Ship Phase step 3: Execute Maneuver
Appearance
Edit
Crix Madine led a commando unit of the Galactic Empire's military until he defected to the Rebel Alliance, where he served as a general. He first appeared in Episode VI, where he was present during the briefing before the Battle of Endor.
Ad blocker interference detected!
Wikia is a free-to-use site that makes money from advertising. We have a modified experience for viewers using ad blockers

Wikia is not accessible if you've made further modifications. Remove the custom ad blocker rule(s) and the page will load as expected.