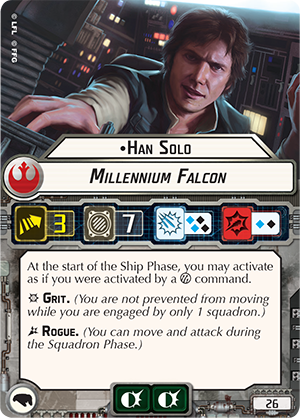 Card Text
Edit
"At the start of the Ship Phase, you may activate as if you were activated by a
command."

Grit. (You are not prevented from moving while you are engaged by only 1 squadron.)

Rogue. (You can move and attack during the Squadron Phase.)
Defense Tokens
Edit
Attributes
Edit
Available Through
Edit
The effect of this Squadron Card triggers during Ship Phase before activating the first ship.
Appearance
Edit
The Millennium Falcon was a YT-1300 light freighter. It came into the hands of the gambler Lando Calrissian, who started customizing her inside and out. It served under Captain Solo as a smuggling vessel and finally became part of the Rebel Alliance fleet. The Freighter is very popular and appears in Episode III, all the films of the Original Trilogy, and Episode VII.
More...
Ad blocker interference detected!
Wikia is a free-to-use site that makes money from advertising. We have a modified experience for viewers using ad blockers

Wikia is not accessible if you've made further modifications. Remove the custom ad blocker rule(s) and the page will load as expected.