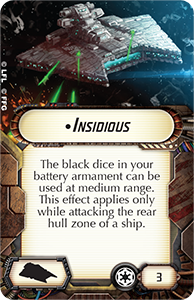 Card Text
Edit
"The black dice in your battery armament can be used at medium range. This effect applies only while attacking the rear hull zone of a ship."
Attributes
Edit
Available Through
Edit
The effect of this Upgrade Card triggers during Attack Step 2: "Roll Attack Dice"
Appearance
Edit
The Insidious title has been created for Star Wars: Armada.