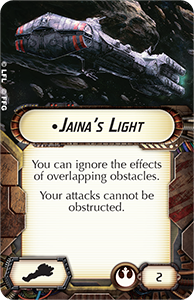 Card Text
Edit
"You can ignore the effects of overlapping obstacles.
Your attacks cannot be obstructed."
Attributes
Edit
Available Through
Edit
The effect of this Upgrade Card triggers during Attack Step 2: "Roll Attack Dice"
and after Execute Maneuver Step: "Move Ship"
Appearance
Edit
The Jaina's Light was a CR90 Corellian Corvette piloted by Han Solo and Chewbacca circa 5 BBY. She appeares in the second issue of Star Wars Tales series of comics.
More...
Ad blocker interference detected!
Wikia is a free-to-use site that makes money from advertising. We have a modified experience for viewers using ad blockers

Wikia is not accessible if you've made further modifications. Remove the custom ad blocker rule(s) and the page will load as expected.