Card Text
Edit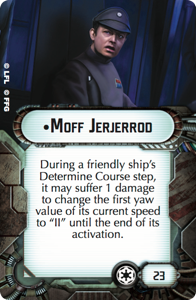 "During a friendly ship's Determine Course step, it may suffer 1 damage to change the first yaw value of its current speed to "II" until the end of its activation."
Attribute
Edit
Available Through
Edit
Appearance
Edit
Moff Jerjerrod has been Commander of the Second Death Star in Episode VI: The Return of the Jedi.
Ad blocker interference detected!
Wikia is a free-to-use site that makes money from advertising. We have a modified experience for viewers using ad blockers

Wikia is not accessible if you've made further modifications. Remove the custom ad blocker rule(s) and the page will load as expected.