Card Text
Edit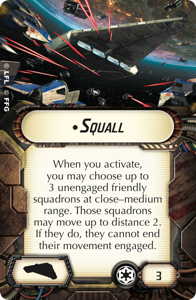 "When you activate, you may choose up to 3 unengaged friendly squadrons at close-medium range. Those squadrons may move up to distance 2. If they do, they cannot end their movement engaged."
Attributes
Edit
Available Through
Edit
This card's effect resolves before your ship dial is revealed.
Appearance
Edit
The Squall was designed for Star Wars Armada by FFG.