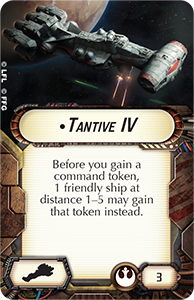 Card Text
Edit
"Before you gain a command token, 1 friendly ship at distance 1-5 may gain that token instead."
Attributes
Edit
Available Through
Edit
The effect of this Upgrade Card triggers during Ship Activation step 1: "Reveal Command Dial"
Appearance
Edit
The Tantive IV was a CR90 Corellian Corvette in the service of senator Leia Organa. It was intercepted over Tatooine by the Imperial Star Destroyer Devastator in an attempt to recapture the stolen Death Star plans. This raid is the opening of Episode IV. Its escape with the documents we see in Rogue One. The ship also appeares in the TV-series The Clone Wars and Star Wars Rebels.
More...
Ad blocker interference detected!
Wikia is a free-to-use site that makes money from advertising. We have a modified experience for viewers using ad blockers

Wikia is not accessible if you've made further modifications. Remove the custom ad blocker rule(s) and the page will load as expected.